The Ripon College Red Hawk football team could have hung its head early in the fourth quarter last week Saturday.
Ripon had just given up touchdowns and 2-point conversions on back-to-back drives to allow the visiting University of Chicago Maroons to come back and tie the game at 16. It then went three and out and had to punt the ball back.
But the Red Hawk defense came up with a stop of its own and the offense drove the ball 65 yards down the field for a 27-yard game-winning field goal by Erik Flores with 51 seconds left.
Special teams sealed the victory on the ensuing kickoff as Clay Ritschard forced a fumble around Ripon's 39-yard line and Dionisio Herrera recovered it.
With the win, Ripon improves to 6-0 in the Midwest Conference and 7-0 overall. It is tied atop the conference standings with the Monmouth Fighting Scots, which it will play Saturday, Nov. 5 on the road. Monmouth does have a non-conference loss.
"I thought our kids continued to fight and compete, never losing faith even when they tied the game," Ripon head coach Ron Ernst said, noting it was "a heck of a football game. The sense on the sideline was, 'We're going to win this thing and we're going to find a way.' I think that's what this team is all about is finding a way. We've been behind and came back. We've been ahead and had to hang on and then come back to win. We've pretty much faced literally every scenario that a team has had to face and we responded well, so that was really gratifying to see."
The Red Hawks started the game strong as they moved the ball down the field on the opening possession. A false start, however, stalled their drive and forced them to kick a 34-yard field goal, which Flores missed wide right.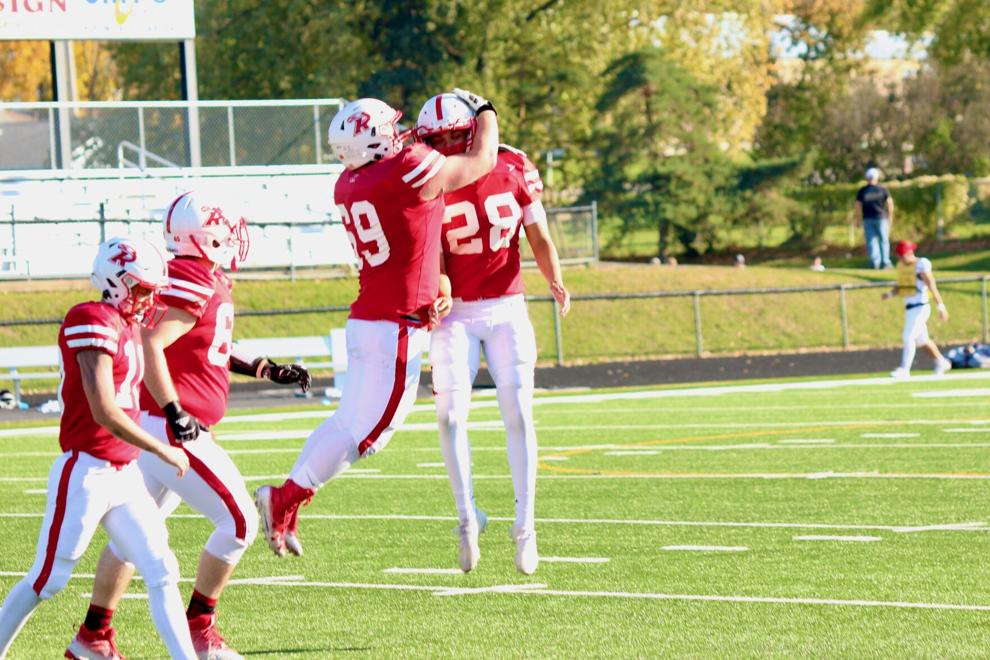 Ripon's defense then forced a three and out and a punt, which ended up resulting in a safety after the University of Chicago punter dropped the ball in the end zone and another Maroon player was able to fall on top of the ball.
"The snap hit the punter right in the hands; it was a perfect snap," Ernst said. "He just dropped it. I think part of it was the pressure that was being applied by Damean Netzler, who really pressured him."
Netzler also blocked a 36-yard field goal attempt by Will Goodman at the end of the first quarter to preserve Ripon's 2-0 lead. It was one of two field goals that Ripon's special teams blocked in the game as Zach Bunders got his hand on a 40-yard field goal attempt on the University of Chicago's first drive of the third quarter.
"Blocking the two field goals was absolutely huge because I think our kicker, Erik Flores, and their kicker are probably the top-two kickers in the conference," Ernst said. "When you are able to block the field goals of their kicker, that's saving points, which is six points right there."
The Red Hawks capitalized on the blocked field goal at the end of the first quarter as they drove the ball 80 yards down the field on 10 plays to score a touchdown on the ensuing drive. Rosendale native Cormac Madigan, who accounted for 31 of the yards on the drive, capped it off with a 5-yard touchdown run on a direct snap.
The touchdown gave Madigan school records for most rushing touchdowns in a career (42) and most points in a career (270). He was tied with Matt Miller and Ripon resident Bill Schultz for those two records, respectively.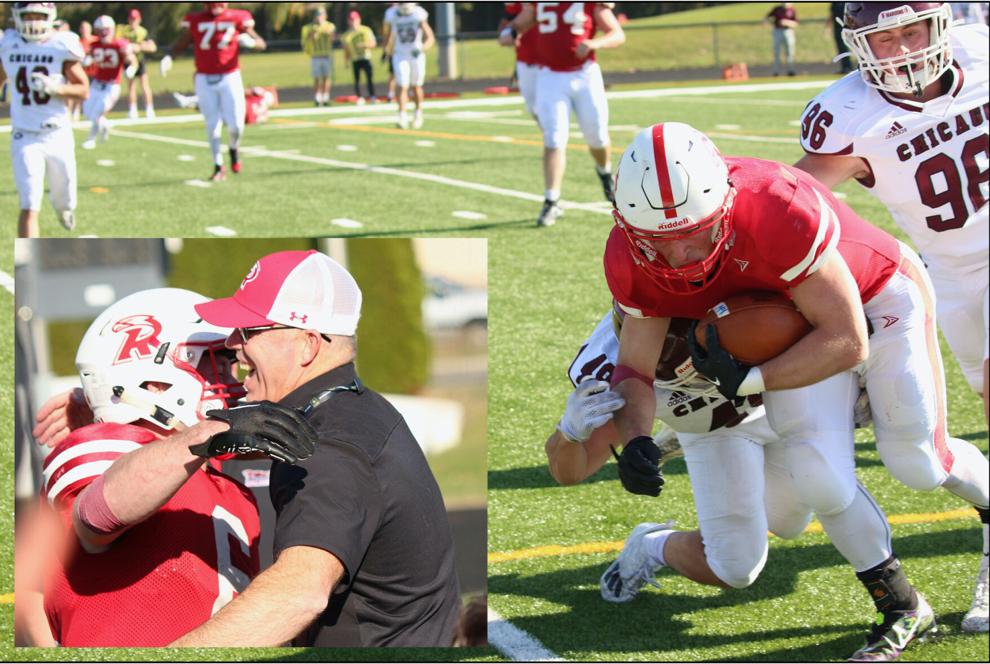 Madigan also moved into third place on the Ripon career leader board for rushing yards (3,750) and rushing attempts (602) in the game as he finished with 143 yards on 23 carries. Only Troy DeVoe (4,117 yards on 776 attempts from 1998-2001) and Don Dawson (3,812 yards on 680 attempts from 1990-93) are above him. He has at least three games to break their records.
"There isn't a whole lot more to say about Cormac that hasn't already been said," Ernst said, noting his work ethical, attitude, determination and athleticism are off the charts. "… I was very proud of him and he deserves everything he gets."
Ripon also scored a touchdown on its next drive as it drove the ball 64 yards in seven plays to make it 16-0. Jarrett Zibert, who completed all three of his passes on the drive for 44 yards, capped it off with a 1-yard touchdown run.
The score remained 16-0 until late in the third quarter, when University of Chicago scored on a 6-yard touchdown pass and converted the 2-point attempt. The score came after the Maroons were gifted with what Ernst called a "phantom" holding call on Jake Davies on a 4th-and-goal play at the 14-yard line that Ripon was able to force an incompletion on.
"It was a bad call," Ernst said. "And that was fourth down. They should not have gotten into the end zone. It is what it is. the official made the call; the movie clearly shows our guy didn't [hold him]. We should have gotten the ball back."
The University of Chicago then scored again on its next drive as it got the ball in good field position after a nice punt return and went 40 yards on eight plays. It scored on a 20-yard touchdown pass and converted the 2-point try to tie the game.
Despite allowing those two scores, Ernst felt his defense played "a hell of a game" and was proud of how it responded in the fourth quarter when it needed to get a stop to give the ball back to its offense in order to try to win the game.
Ripon limited the University of Chicago to 314 yards. The Midwest Conference leader in rushing and a preseason All-American, Nick D'Ambrose, racked up 144 yards on 25 carries to lead the way for the Maroons.
Zibert came up big for the Red Hawks to start their game-winning drive as her ran the ball four times for 36 yards, which included a 22-yard run on the first play to get the ball close to midfield. Ripon also benefited from a holding penalty against the Maroons on the drive, as well as 10 yards rushing from Connor Ramage and nine yards from Madigan.
"He's really growing and getting better every week," Ernst said of Zibert, who finished with 96 yards passing and 76 yards rushing. "He's a playmaker. He's making good decisions. I think he's surprising people with his legs, in terms of how good a runner he is. And he's really becoming a real threat in the sense that he can throw the ball extremely well."
Flores then kicked his second game-winning field goal of the season. He also won the game against St. norbert
"Erik is an outstanding kicker," Ernst said, noting the junior works hard during the week and is as cool of a kicker as he's ever seen. "Pressure doesn't seem to get to him. … A lot of credit goes to the guys protecting him. It was a good snap. It was a good hold and they didn't even get close to him on that final kick."
Up next
Ripon will try to stay undefeated Saturday, when it hosts the Beloit Buccaneers at 1 pm at Ingalls Field.
Beloit is coming off its first win of the season last weekend as it defeated Lawrence 56-0 in a battle of winless teams.
"This is a conference game that is very important to us that gets us one step closer to where we want to be at the end of the year," Ernst said. "We have full control over what happens. We don't need help from anybody else right now. And so we would like to keep it that way. That's our attitude. We're going to go into this game as this is the most important game of our lives and we're going to stay focused on what has gotten us here and come out and play the best we possibly can."
.